Emerging market assets should benefit broadly with the Fed on hold
美联储按兵不动,新兴市场资产应该会普遍受益
EXHIBIT 1: ASSET CLASS PERFORMANCE SINCE LAST FED HIKE
表1:自美联储上次加息以来的资产类别表现
Market overview: the crisis that wasn't
市场概况:危机并非如此
2018 is notable as much for what didn't happen as what did, and it is easy to contextualise the performance in the first quarter of 2019 as a response to this outcome. In 2018, investors stepped away from a perception of rising risk and the potential for an increase in both distress and defaults within the EMD space. Tightening liquidity conditions could have led to an increase in issuer distress, just as rising rates, or slowing growth in China or the developing world, could have affected activity and thus service. These expectations largely did not play out, however: 2018's default rate represented only 1.6%* of total emerging market corporate high yield issuance, a sequential decline vs 2017's 2.3% default rate. Despite outflows, the market remained orderly in the face of a stiffening technical headwind.
2018年值得注意的是,没有发生的事情和已经发生的事情一样多,很容易将2019年第一季度的表现作为对这一结果的回应。2018年,投资者不再认为EMD领域的风险在上升,也不再认为危机和违约可能同时增加。流动性状况趋紧可能导致发行人的困境加剧,正如加息或中国或发展中国家经济增长放缓可能影响经济活动和服务业一样。然而,这些预期在很大程度上没有实现:2018年的违约率仅占新兴市场公司高收益债券发行总额的1.6%*,与2017年2.3%的违约率相比,出现了连续下降。尽管资金外流,但在技术阻力加大的情况下,市场仍保持有序。
Successful Chinese policy implementation in the face of rising trade tariffs is an important factor in understanding the market's behaviour in late 2018 and the first quarter of 2019. As an export-oriented economy with a leveraged state banking system, China appeared likely to slow substantially as a result of tariff increases. With fiscal deficit capabilities constrained, Chinese policymakers moved to create a credit impulse by reducing restrictions on state bank lending, while bringing forward other fiscal policy objectives.
面对不断上升的贸易关税,中国政策的成功实施是理解2018年末和2019年第一季度市场行为的一个重要因素。作为一个以出口为导向、国有银行体系杠杆化的经济体,中国似乎有可能因关税上调而大幅放缓。在财政赤字能力受到限制的情况下,中国政策制定者采取行动,通过减少对国有银行贷款的限制,创造信贷刺激,同时提出了其它财政政策目标。
The Chinese government increased fiscal spending in December 2018 by nearly 23%* year over year, ultimately increasing expenditure to RMB 22.1 trillion for the year, a 5.1% increase over the previous year. The result is a growth stimulus that may lift Chinese growth from 6.1% to 6.5% at year end, but has risked public sector borrowing credibility and stretched Chinese fiscal balances to do so.
2018年12月,中国政府财政支出同比增长近23%*,全年支出22.1万亿元,比上年增长5.1%。其结果是一项经济增长刺激计划,有望将中国经济增速从6.1%提升至6.5%,但这有可能损害公共部门的借贷信誉,并使中国的财政收支出现紧张。
China's actual fiscal deficit has been above target
中国的实际财政赤字已经超过了目标
EXHIBIT 2: CHINA FISCAL DEFICIT COMPARED TO GDP
表2:中国财政赤字与GDP之比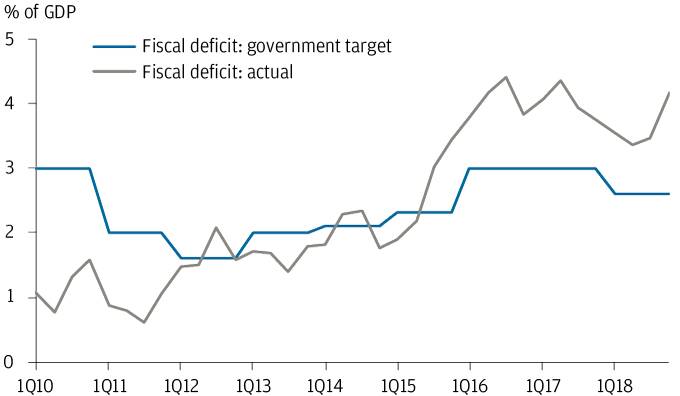 Chinese infrastructure investment is set to surge again
中国基础设施投资将再次飙升
EXHIBIT 3: NEW CONTRACT VALUE FOR INFRASTRUCTURE COMPANIES
表3:基础设施公司的新合同价值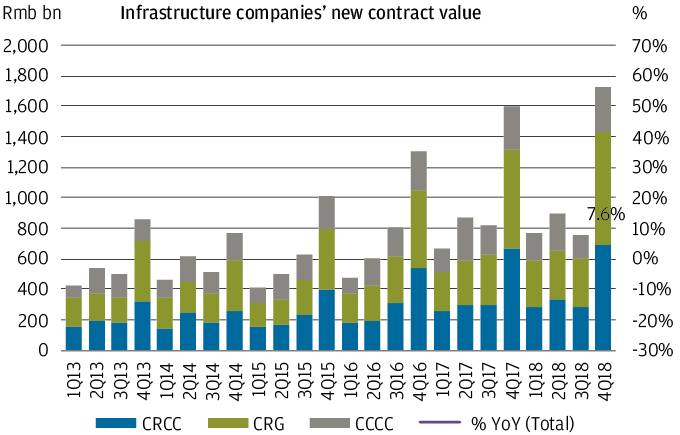 The fact that China continues to add stimulus to its economy continues to be an important driver for EMD. The People's Bank of China has been an active participant in the domestic swap market, as it seeks to create liquidity in the domestic banking system and fuel growth. Encouraging banks to lend is an efficient way to stimulate economic growth.
中国继续刺激经济增长的事实,仍然是EMD的一个重要驱动因素。中国人民银行(pboc)一直积极参与国内互换市场,力求为国内银行体系创造流动性,推动经济增长。鼓励银行放贷是刺激经济增长的有效途径。
The Chinese government has made use of both social financing (which may grow by 10%-13% this year) and fixed asset investment as policy levers, generating increases in demand for commodities, machine tools and other industrial inputs in the process. We note the 26 Chinese provinces have published fixed asset investment plans that total RMB 1.989 billion* so far this year as an indicator of scale. As this stimulus unfolds, the impact on Chinese, Asian and global growth will likely be widespread.
中国政府利用社会融资(今年可能增长10%-13%)和固定资产投资作为政策杠杆,在此过程中增加了对大宗商品、机床和其他工业投入的需求。我们注意到,今年以来,中国26个省份共公布固定资产投资计划19.89亿元*,作为规模指标。随着刺激计划的展开,对中国、亚洲和全球经济增长的影响可能会广泛存在。
The likelihood is that China and the US will reach a truce in their trade tensions
中国和美国有可能在贸易紧张局势中达成休战
EXHIBIT 4: CHINESE TRADE AND GROWTH SCENARIO ANALYSIS
表4:中国贸易与增长情景分析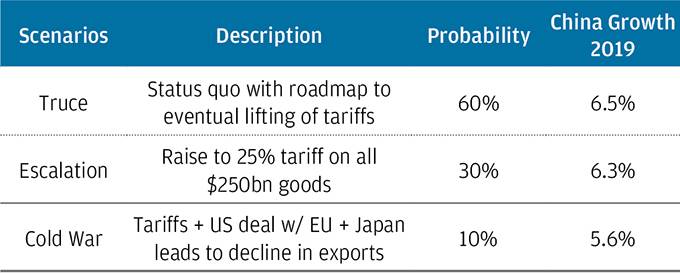 Emerging market diversity: a source of risk and opportunity
新兴市场的多样性:风险和机遇之源
As the Chinese tariff debate grinds towards a near-term resolution, it is worth noting that emerging market diversity remains a source of both risk and return. In South Africa, for example, hard currency investors welcomed progress around ESKOM's solvency. We see three pillars to the government's approach to the utility's finances: direct financial support, a package of tariff increases and a package of cost reductions. Once stabilised, it is possible that the government may seek to reorganise the company into three separate units. These developments had a positive impact across the South African hard currency complex, which was also supported by a more positive external environment.
值得注意的是,随着中国关税之争朝着近期解决方案推进,新兴市场的多样性仍是风险和回报的来源之一。例如,在南非,硬通货投资者对围绕ESKOM偿付能力的进展表示欢迎。我们认为政府对公用事业财务的方法有三大支柱:直接财政支持、一揽子关税上调和一揽子成本削减。一旦企稳,政府可能寻求将公司重组为三个独立的部门。这些发展对整个南非硬通货体系产生了积极的影响,这也得到了更为积极的外部环境的支持。
Elsewhere in emerging markets, the first half promises an active calendar. In Turkey, the results of the election will continue to be felt as policymakers grapple with domestic dollarisation. Tight fiscal and monetary policy will remain key for Turkish policymakers seeking to stimulate domestic growth and thus improve local confidence in policy. The previous year's volatility had gone a long way towards improving the Turkish current account, meaning policymakers face a decisive period given developments in both domestic banking and the offshore market. A further risk presents around security, as tensions between Ankara and Washington may rise over procurement arrangements. By comparison, Russia continues to show strong macro performance, though the risk of the imposition of sovereign sanctions by the US may offset this appeal.
在其他新兴市场国家,上半年的日程安排也很活跃。在土耳其,随着政策制定者努力解决国内美元化问题,人们将继续感受到选举结果。紧缩的财政和货币政策仍将是土耳其政策制定者寻求刺激国内增长、从而提高当地政策信心的关键。过去一年的动荡对改善土耳其经常账户状况大有帮助,这意味着,考虑到国内银行业和离岸市场的发展,政策制定者将面临一个决定性时期。由于安卡拉和华盛顿之间在采购安排上的紧张关系可能加剧,安全方面还存在进一步的风险。相比之下,俄罗斯的宏观经济表现依然强劲,尽管美国实施主权制裁的风险可能抵消这种吸引力。
In Brazil, the market is closely following the progress of the government's efforts to reform the country's pension system. If successful, the policy reform could save the state BRL 600 billion* or more over 10 years, which would have a positive impact on Brazilian fiscal policy and therefore competitiveness – which could improve the country's appeal as an investment destination.
在巴西,市场正密切关注政府改革该国养老金制度的进展。如果成功,政策改革将在10年内为巴西节省6000亿巴西雷亚尔*或更多,这将对巴西的财政政策产生积极影响,从而提高巴西作为投资目的地的吸引力。
In Argentina upcoming elections will test support for President Macri's reform agenda. With voters scheduled to go to the polls in late October, there is plenty of opportunity for surprising twists and turns in a race that may polarise investor consensus.
阿根廷即将举行的选举将考验对马克里总统改革议程的支持。由于选民定于10月底进行投票,在这场可能导致投资者共识两极分化的竞选中,有很多机会出现出人意料的波折。
In Mexico, investors will watch for evidence of policy and performance continuity. Slowing GDP growth and fiscal slippage might worry investors. The arrival of ratings agencies in the country for a review will focus investor attention early in the second quarter.
在墨西哥,投资者将关注政策和业绩连续性的证据。GDP增长放缓和财政滑坡可能会让投资者感到担忧。评级机构进入中国进行评估,将在第二季度初吸引投资者的注意力。
The net effect of these developments is that country specific risk has left many emerging market currencies trading cheaper against the dollar. Underlying fundamental improvement should support some higher beta currencies, which may create an opportunity for investors seeking exposure. Should hard currency valuations continue to tighten, the relative appeal of these opportunities may improve.
这些事态发展的净效应是,各国特有的风险导致许多新兴市场货币兑美元汇率下跌。基本基本面改善应会支撑一些较高的贝塔货币,这可能为寻求敞口的投资者创造机会。如果硬通货估值继续收紧,这些机会的相对吸引力可能会提高。
Sovereign hard currency: back to the future
主权硬通货:回到未来
For investors in hard currency emerging market sovereign bonds, the question is how much of the year's returns have already been printed. The first quarter proved an optimal environment for hard currency debt and the asset class duly delivered a return consistent with previous annual returns. Spreads over Treasuries tightened by around 45 basis points* (bps) for the quarter (JPM EMBI Global Diversified), with high yield issues tightening 71bps over the same period. This rally retraces from the fourth quarter wides to bring spreads to levels consistent with the third quarter of 2018, suggesting a possibility that we could go tighter still if the external environment remains supportive.
对于新兴市场硬通货主权债券的投资者来说,问题是今年的回报率有多少已经打印出来了。事实证明,第一季度是发行硬通货债券的最佳环境,该资产类别的回报率与此前的年度回报率相符。与美国国债的息差在本季度收窄约45个基点* (bps)(摩根大通EMBI Global Diversified),同期高收益债券的息差收窄71个基点。本轮涨势从去年第四季度开始回落,息差扩大至与2018年第三季度持平的水平,这表明,如果外部环境继续提供支撑,我们有可能进一步收紧银根。
Emerging market relative value vs developed markets is better in high yield than investment grade
新兴市场相对于发达市场的相对价值在高收益方面优于投资级
EXHIBIT 5: EMERGING MARKET HIGH YIELD VS US HIGH YIELD VALUATION SPREAD
表5:新兴市场高收益与美国高收益估值之差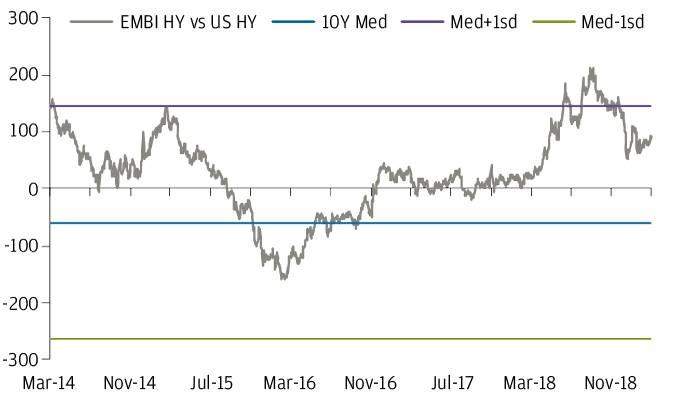 In our view, the high yield arena, particularly in BB rated securities, looks to offer the most attractive opportunity. Should emerging market hard currency bonds continue to appeal to investors, inflows may target the cheaper end of the market. With investment grade hard currency trading relatively tight vs higher yielding bonds, it is possible that we see support for higher yielding issues unfolding as the year plays out.
在我们看来,高收益领域,尤其是BB评级证券,似乎提供了最有吸引力的机会。如果新兴市场的硬通货债券继续吸引投资者,资金流入的目标可能是较便宜的市场。鉴于投资级硬通货相对于高收益债券交易相对吃紧,我们有可能在今年年底看到对高收益债券的支持。
Corporates: poised for a stronger year in 2019
企业:准备好迎接2019年更加强劲的一年
Having tested investor commitment in 2018, emerging market corporate bonds now appear poised to reward patient investors with a stronger year in 2019. Supported by a better-than- expected earnings backdrop, the emerging market corporate space has benefited from improving balance sheets and evidence of capital discipline, resulting in the best balance sheet metrics we have seen since 2015.
在2018年考验了投资者的承诺之后,新兴市场公司债券现在似乎准备在2019年以更强劲的表现回报耐心的投资者。在好于预期的盈利背景下,新兴市场企业空间受益于资产负债表的改善和资本纪律的证据,形成了自2015年以来我们所见过的最佳资产负债表指标。
Emerging market corporate earnings continue to improve
新兴市场企业盈利继续改善
EXHIBIT 6: EBITDA* CHANGE YEAR-ON-YEAR CHANGE
表6:EBITDA*同比变化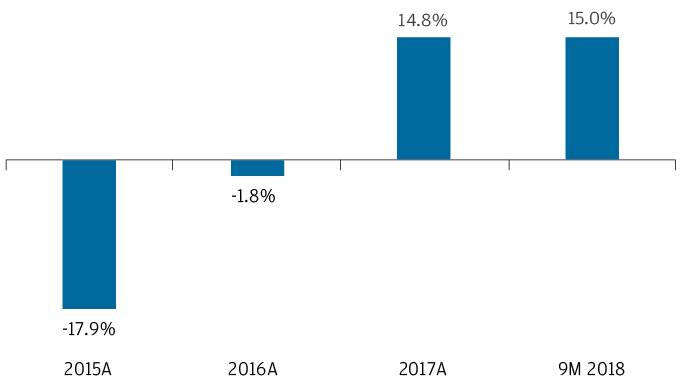 Operationally, corporates show activity consistent with a mid- cycle positioning, though this may change as the year unfolds, reflecting more cautious capital expenditure, and a greater emphasis on debt management and reduction. Debt issuance remains relatively muted, with limited amounts of new paper reaching the street. Because emerging market corporates have been focusing on extending debt maturities, the market has relatively little short-term debt to roll over. With capital expenditure likely to reduce from current levels, a shortage of new issuance in the space may become a more prominent feature.
在运营方面,企业的活动与周期中期的定位相符,不过随着时间的推移,这种情况可能会发生变化,反映出企业更加谨慎的资本支出,以及对债务管理和削减的更大重视。债券发行仍相对清淡,流入市场的新债券数量有限。由于新兴市场企业一直专注于延长债务期限,市场可展期的短期债务相对较少。随着资本支出可能从目前水平下降,该领域新股发行不足可能成为一个更为突出的特征。
Corporate net leverage has continued to improve
企业净杠杆率持续改善
EXHIBIT 7: EMERGING MARKET CORPORATE NET LEVERAGE
表7:新兴市场企业净杠杆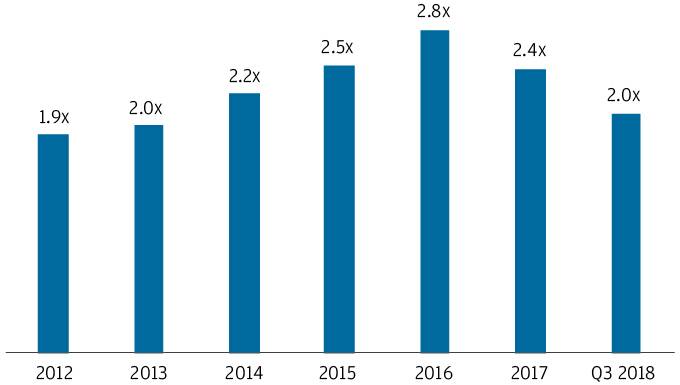 In our view, corporate spreads could grind tighter for the rest of the year, as investors target the available yield opportunity and embrace the capital discipline of emerging market corporate managements. While the spread of the J.P. Morgan CEMBI Broad Diversified, a widely followed corporate index, continues to trade close to the post-Lehman average, fundamentals remain intact with further support possible in the event of a global economic recovery. With companies maintaining discipline, we note falling default expectations in the space.
在我们看来,随着投资者瞄准可获得的收益率机会,并接受新兴市场企业管理层的资本纪律,今年剩余时间企业债券息差可能会进一步收窄。尽管广受关注的企业指数摩根大通CEMBI Broad Diversified的价差继续接近雷曼兄弟破产后的平均水平,但基本面没有受到影响,如果全球经济复苏,可能还会有进一步的支撑。随着企业保持自律,我们注意到违约预期正在下降。
Local currency: the case for local currency commitment is strengthening
当地货币:当地货币承诺的理由正在加强
In our view, local market duration, especially in mid- to higher- yielding names, remains an attractive positioning. With the Fed and European Central Bank both on the sidelines, volatility may dampen, further encouraging emerging market central banks to change tack towards a more dovish approach.
在我们看来,本地市场的持续时间,特别是中高收益的股票,仍然是一个有吸引力的定位。由于美联储(Fed)和欧洲央行(ecb)都在观望,市场波动可能会减弱,这进一步鼓励新兴市场央行转向更为温和的策略。
This backdrop presents an appealing confluence of factors for the asset class, and underpins our view that the local currency space may offer appealing returns for the remainder of the year. To best play this feature, we believe there is merit to carrying risk in selected higher beta markets, while avoiding those countries that are more vulnerable or seeing eroding positions. We increasingly see policy credibility as key to understanding how performance may differentiate between countries.
这一背景为这一资产类别提供了一系列颇具吸引力的因素,并支撑了我们的观点,即人民币升值空间可能在今年剩余时间提供诱人的回报。为了更好地发挥这一功能,我们认为,在选定的贝塔系数较高的市场承担风险是有好处的,同时要避免那些更容易受到冲击或看到头寸减少的国家。我们越来越认为,政策可信度是理解各国表现如何不同的关键。
Real carry support for emerging market currencies is relatively strong amid a subdued inflation backdrop
在通胀疲弱的背景下,新兴市场货币的实际利差支撑相对强劲
EXHIBIT 8: IMPLIED THREE-MONTH EMERGING MARKET CURRENCY YIELDS AND SHARPE RATIOS
表8:隐含的3个月新兴市场货币收益率和夏普比率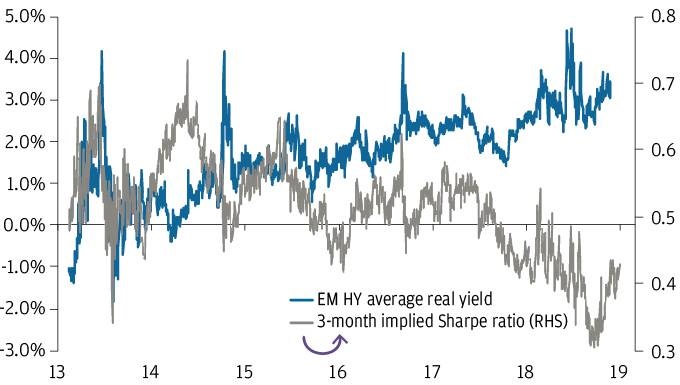 Historically, a pause in a Fed hiking cycle has been kind to investors in emerging markets generally and local currency specifically. While we do not expect the dollar to weaken substantially, we think it may remain rangebound, thus enabling investors to access the local currency carry opportunity. A further driver of returns for investors lies in the relatively light positioning of foreign investors in the space. Recent volatility shook even a few of the remaining holders out of what is now a relatively under-owned market.
从历史上看,美联储加息周期的暂停对新兴市场的投资者总体来说是好事,对本币尤其如此。尽管我们预计美元不会大幅走软,但我们认为,美元可能仍将保持区间波动,从而使投资者有机会获得本币套利。投资者回报的另一个驱动因素在于,外国投资者在该领域的定位相对较轻。最近的市场波动甚至令少数剩余的持有者感到震惊,他们纷纷退出了这个目前拥有相对不足的市场。
Taken together, we think there is a strengthening case for local currency commitment. The combination of positive carry, a dovish Fed and manageable inflation should enable local currency returns to deliver strong performance to investors.
综上所述,我们认为有理由加强对本币的承诺。积极的利差、温和的美联储以及可控的通胀,应能使本币回报给投资者带来强劲表现。
Conclusion
结论
After a robust first quarter, the outlook for the remainder of the year continues to look positive. In our view, emerging market growth will be 4.4% in 2019, a slight decline from 2018's 4.6%. However, we expect global growth to slow a touch faster, meaning that emerging market growth alpha should increase to 2.6%, up from 2.3% over the same period a year earlier.
在经历了强劲的第一季度后,今年剩余时间的前景仍将保持乐观。我们认为,2019年新兴市场增速为4.4%,略低于2018年4.6%的增速。不过,我们预计全球经济增长将略微放缓,这意味着新兴市场的阿尔法增长率将从去年同期的2.3%升至2.6%。
Slowing developing world inflation should keep global inflation relatively muted, thus enabling emerging market central banks to shift their bias towards a more dovish stance, anchored by stable currencies. We think Chinese policymakers will succeed in delivering an improving growth picture in 2019, with Chinese growth averaging 6.3% for the full year, although this view is based on expectations for a trade truce. Political risks remain material in emerging markets and could act as a source of volatility for most of the year, despite a front loading of elections in to the first half of the year.
发展中国家通胀放缓,应会使全球通胀相对温和,从而使新兴市场央行能够转变其偏温和立场,以稳定的货币为基础。我们认为,中国的政策制定者将在2019年成功实现增长前景的改善,全年平均增长6.3%,尽管这一观点是基于对贸易休战的预期。政治风险在新兴市场仍是重大问题,可能成为今年大部分时间市场波动的一个来源,尽管今年上半年的选举将会提前举行。
Emerging market growth alpha should increase this year
新兴市场增长阿尔法指数今年应该会上升
EXHIBIT 9: DEVELOPED MARKET VS EMERGING MARKET REAL GDP GROWTH
表9:发达市场与新兴市场实际GDP增长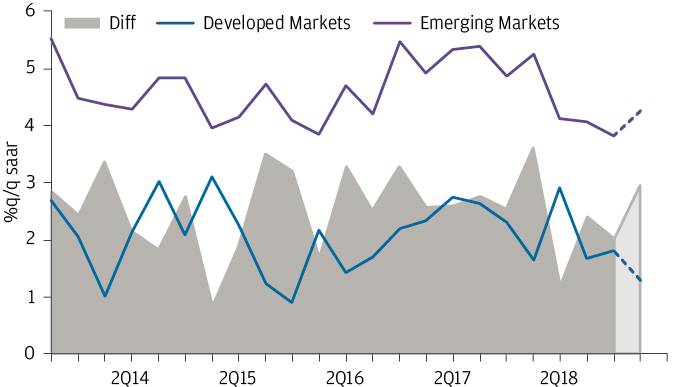 As a result, we expect emerging market returns to be most likely driven by carry rather than by appreciation for the rest of the year. While we expect sovereign credit to enjoy a sweet spot currently, we think the case for local currency debt will improve as the year unfolds. We therefore think there is an argument for a rotation. With core rates likely anchored into the third quarter, a low inflation environment creates a supportive market for both spreads and duration in coming months. We see limited US dollar upside balanced against less clear direction in emerging market currencies. That may open opportunities for greater conviction on specific local currencies, especially if consensus shifts more positively on emerging market growth.
因此,我们预计新兴市场的回报率最有可能受到套利交易的推动,而非今年剩余时间的升值。尽管我们预计主权信贷目前将处于最佳状态,但我们认为,随着时间的推移,本币债务的情况将有所改善。因此,我们认为存在一个旋转的参数。随着核心利率可能在第三季度企稳,低通胀环境为未来几个月的息差和期限创造了一个支持性市场。我们认为,美元上行空间有限,而新兴市场货币走势不那么明朗。这可能为市场对特定本币的信心增强创造了机会,尤其是如果市场对新兴市场增长的共识变得更加积极的话。
Our base case is for a soft landing scenario to play out this year
我们的基本情况是今年出现软着陆的情况
EMD ROADMAP FOR THE SECOND QUARTER 2019
2019年第二季度EMD路线图