Exchange rate movements against the US dollar are an important factor shaping the outlook in emerging market economies as a large share of their credit, trade and debt is priced in dollars. Abrupt swings in emerging market exchange rates are typically linked to capital outflows, tighter financing conditions and heightened financial instability. The drivers of those movements are, however, difficult to disentangle, as global and domestic forces jointly determine the relative strengths of these currencies. This box presents a methodology for separating out the four main drivers of emerging market exchange rate swings: spillovers from US shocks, global risk appetite, interest rate effects and idiosyncratic domestic shocks. It uses the methodology to analyse the factors behind the sharp depreciation and subsequent recovery of emerging market currencies over the course of 2018.
汇率变动对美元汇率的影响是塑造新兴市场经济体前景的重要因素,因为其信贷,贸易和债务的很大一部分以美元计价。新兴市场汇率的突然波动通常与资本外流,融资条件收紧以及金融不稳定性加剧有关。然而,这些变动的驱动因素很难解开,因为全球和国内力量共同决定了这些货币的相对优势。本文介绍了一种分离新兴市场汇率波动的四个主要驱动因素的方法:美国冲击的溢出效应,全球风险偏好,利率效应和特殊的国内冲击。本文使用该方法分析2018年期间新兴市场货币大幅贬值和随后复苏背后的因素。
Chart A
图表A.
Evolution of emerging market economies' net capital inflows and exchange rates
新兴市场经济体净资本流入和汇率的演变
(left-hand scale: USD billions; right-hand scale: index: 1 January 2018 = 100)
(左轴:数十亿美元;右轴:指数:2018年1月1日= 100)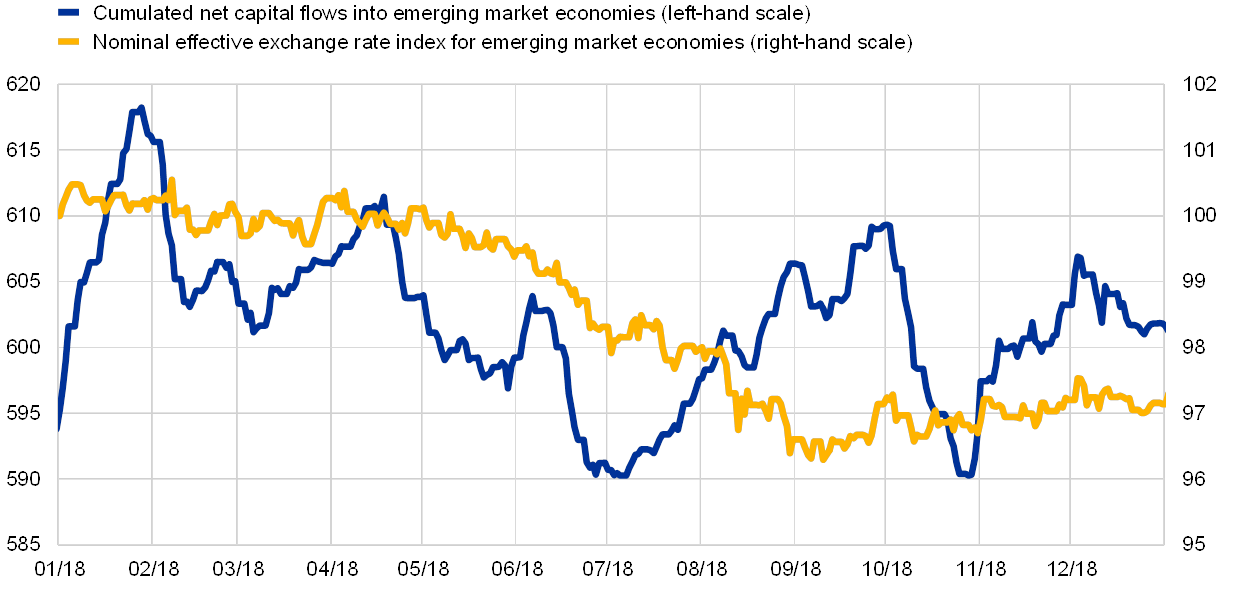 Sources: ECB, Institute of International Finance, JP Morgan and ECB calculations.
资料来源:欧洲央行,国际金融研究所,摩根大通和欧洲央行计算。
Between January and August 2018 emerging market currencies depreciated markedly. Emerging market currencies experienced a sharp sell-off over the first eight months of 2018 coupled with capital outflows and rising financial market volatility (see Chart A). The composite index of the nominal effective exchange rates of emerging market currencies fell by 3.6% between January and August of that year, while bilateral exchange rates against the US dollar reacted much more strongly, weakening in some cases by more than 20%. The abrupt financial market swings in some countries have posed a threat to financial stability, with potential spillovers to advanced economies. Large currency depreciations also increase funding costs for emerging market economies, whose financial systems typically raise liquidity in US dollars, lowering economic growth prospects.
2018年1月至8月,新兴市场货币明显贬值。新兴市场货币在2018年前8个月出现大幅抛售,加上资本外流和金融市场波动加剧(见图A)。新兴市场货币名义有效汇率的综合指数在当年1月至8月期间下降了3.6%,而双边对美元的汇率反应更为强烈,在某些情况下减弱了20%以上。一些国家突然的金融市场波动对金融稳定构成威胁,对发达经济体可能产生溢出效应。大量货币贬值也增加了新兴市场经济体的融资成本,新兴市场经济体的金融体系通常以美元提高流动性,从而降低经济增长前景。
Interest rate differentials alone do not explain exchange rate movements. The theoretical concept of uncovered interest rate parity postulates that interest rate differentials determine exchange rate movements. It states that developments in the difference in interest rates between two countries should determine the change in the bilateral exchange rate, with the high-yielding currency depreciating vis-à-vis the low-yielding currency. In practice, however, a large part of exchange rate movements is not explained by interest rate differentials and is often attributed to changes in the risk premium.[1] The risk premium correlates with various economic forces which are not well captured by short-term interest rate differentials, including, for example, measures of investors' risk appetite or market volatility. Interest rate differentials indeed explain very little of the changes in emerging market exchange rates against the US dollar in 2018 (see Chart B).
仅利率差异并不能解释汇率变动。无抵补利率平价的理论概念假设利率差异决定了汇率变动。它指出,两国利率差异的发展应决定双边汇率的变化,高收益货币相对于低收益货币贬值。然而,在实践中,很大一部分汇率变动并不是由利率差异来解释,而是通常归因于风险溢价的变化。风险溢价与短期利率差异无法很好捕捉的各种经济力量相关,包括例如投资者风险偏好或市场波动性的衡量指标。利率差异确实解释了2018年新兴市场汇率对美元的变化(见图B)。
Chart B
图表B.
Contribution of interest rate differentials and other factors to exchange rate movements against the US dollar
利率差异和其他因素对汇率变动对美元的贡献
(percentage points)
(百分点)
Sources: Haver Analytics, Board of Governors of the Federal Reserve System, Global Financial Data and ECB calculations.
资料来源:Haver Analytics,联邦储备系统理事会,全球金融数据和欧洲央行计算。
A better understanding of the drivers of currency movements is provided by a model which augments the standard interest rate regression with measures of global risk appetite and US factors. Beyond interest rates, there are two main forces behind emerging market currency movements: changes in global risk appetite and the spillovers from developments in the United States. Global risk appetite affects currencies because a higher risk appetite among market participants tends to lead to inflows of capital into emerging markets, which results in an appreciation of their exchange rates. The unique position of the US dollar in the international monetary system also plays an important role. When the US dollar is strong, which happens in periods of positive economic growth momentum and high interest rates in the US economy, capital tends to flow from emerging markets to the United States, and emerging market currencies depreciate. This is a channel through which US shocks spread to emerging market economies.
模型提供了对货币变动驱动因素的更好理解,该模型通过衡量全球风险偏好和美国因素来增强标准利率回归。除了利率之外,新兴市场货币走势背后还有两个主要推动力:全球风险偏好的变化以及美国发展的溢出效应。全球风险偏好影响货币,因为市场参与者之间较高的风险偏好倾向于导致资本流入新兴市场,从而导致其汇率升值。美元在国际货币体系中的独特地位也起着重要作用。当美元走强时,这种情况发生在经济增长势头良好且美国经济利率高的时期,资本往往从新兴市场流向美国,新兴市场货币贬值。这是美国冲击蔓延到新兴市场经济体的渠道。
Verdelhan (2018)[2] provides a simple framework to assess the relative significance of each of the two forces for movements in emerging market currencies.[3] The standard model in which exchange rate changes are related to interest rate differentials is augmented by two components. One, which can be called a "dollar factor", aims to identify the effect of developments in the United States on emerging market currencies. It is added by inserting a component into the regression which measures the average change in emerging market exchange rates against the US dollar. Since a purely US-based shock might be expected to have a similar effect on all US dollar bilateral exchange rates, looking at changes that are common to a number of such exchange rates should reveal shocks that are specific to the US dollar.[4] The second component accounts for risk-driven movements in emerging market currencies which do not stem directly from US shocks and is generally labelled in the literature as the "carry factor". It is defined as the difference between exchange rate changes of high-yielding currencies and those of low-yielding currencies. When investors engage in carry trades – i.e. sell assets in low-yielding currencies to buy assets in high-yielding currencies – they become exposed to global risks through the exchange rate. This is because high-interest rate currencies tend to depreciate during periods of economic downturn or adverse risk sentiment. Therefore, when global risk rises, the difference in exchange rate returns between the two portfolios widens, mechanically making this component highly correlated with global risk. Adding these two variables to the baseline model significantly increases the share of variation in emerging market currencies that can be explained.[5] The residual element that is not explained by these global or US factors reflects country-specific developments. It may include developments not entirely captured by short-term money market rates such as domestic political instability, changes in expectations of the future path of the domestic economy or market sentiment towards the currency.
Verdelhan(2018)提供了一个简单的框架来评估两种力量对新兴市场货币变动的相对重要性。汇率变化与利率差异相关的标准模型由两个组成部分增加。其中一个可称为"美元因素",旨在确定美国的发展对新兴市场货币的影响。由于纯美国的冲击可能会对所有美元双边汇率产生类似的影响,因此,考虑一些此类汇率所共有的变化,应该会发现美元特有的冲击。第二个因素是新兴市场货币的风险驱动变动,这些变动并非直接源于美国的冲击,并且在文献中通常被称为"套息因素"。它被定义为高收益货币和低收益货币的汇率变化之间的差异。当投资者参与套息交易 - 即以低收益率货币出售资产以购买高收益货币资产时 - 他们会通过汇率面临全球风险。这是因为在经济衰退或不利风险情绪期间,高利率货币往往会贬值。因此,当全球风险上升时,两个投资组合之间的汇率回报差异扩大,机械地使该组成部分与全球风险高度相关。将这两个变量添加到基线模型中可以显着增加可以解释的新兴市场货币的变化份额。这些全球或美国因素无法解释的剩余要素反映了特定国家的发展。它可能包括短期货币市场利率并未完全捕捉到的发展,例如国内政治不稳定,国内经济未来走向的预期变化或市场对货币的情绪。
This model suggests that the sell-off during the first eight months of 2018 was mainly driven by spillovers from the United States and rising global risk aversion (see Chart C). In the period to August 2018, the decomposition highlights two main forces behind the depreciation of emerging market currencies against the US dollar: spillovers from US shocks and global risk. This is in line with the tightening of financial conditions in emerging markets and rising US yields observed over the same period. Notable outliers are Turkey and Argentina, where domestic political tensions are likely to have been the main drivers of exchange rate developments. The model also shows that domestic monetary policies – aimed at increasing interest rate differentials vis-à-vis the United States – were largely unable to cushion the effects of the global and US factors driving currencies downwards.
该模型表明,2018年前八个月的抛售主要是受到美国溢出效应和全球风险厌恶情绪上升的推动(见图C)。在2018年8月期间,分解突显了新兴市场货币兑美元贬值背后的两个主要因素:美国冲击的溢出效应和全球风险。这与新兴市场的金融环境收紧以及同期观察到的美国收益率提高一致。值得注意的异常值是土耳其和阿根廷,国内政治紧张局势可能是汇率发展的主要驱动因素。该模型还表明,国内货币政策 - 旨在提高与美国的利率差异 - 在很大程度上无法缓解全球和美国因素推动货币下行的影响。
Chart C
图表C.
Contributions to the depreciation and recovery of emerging market currencies against the US dollar
对新兴市场货币兑美元贬值和回升的贡献
(percentage points)
(百分点)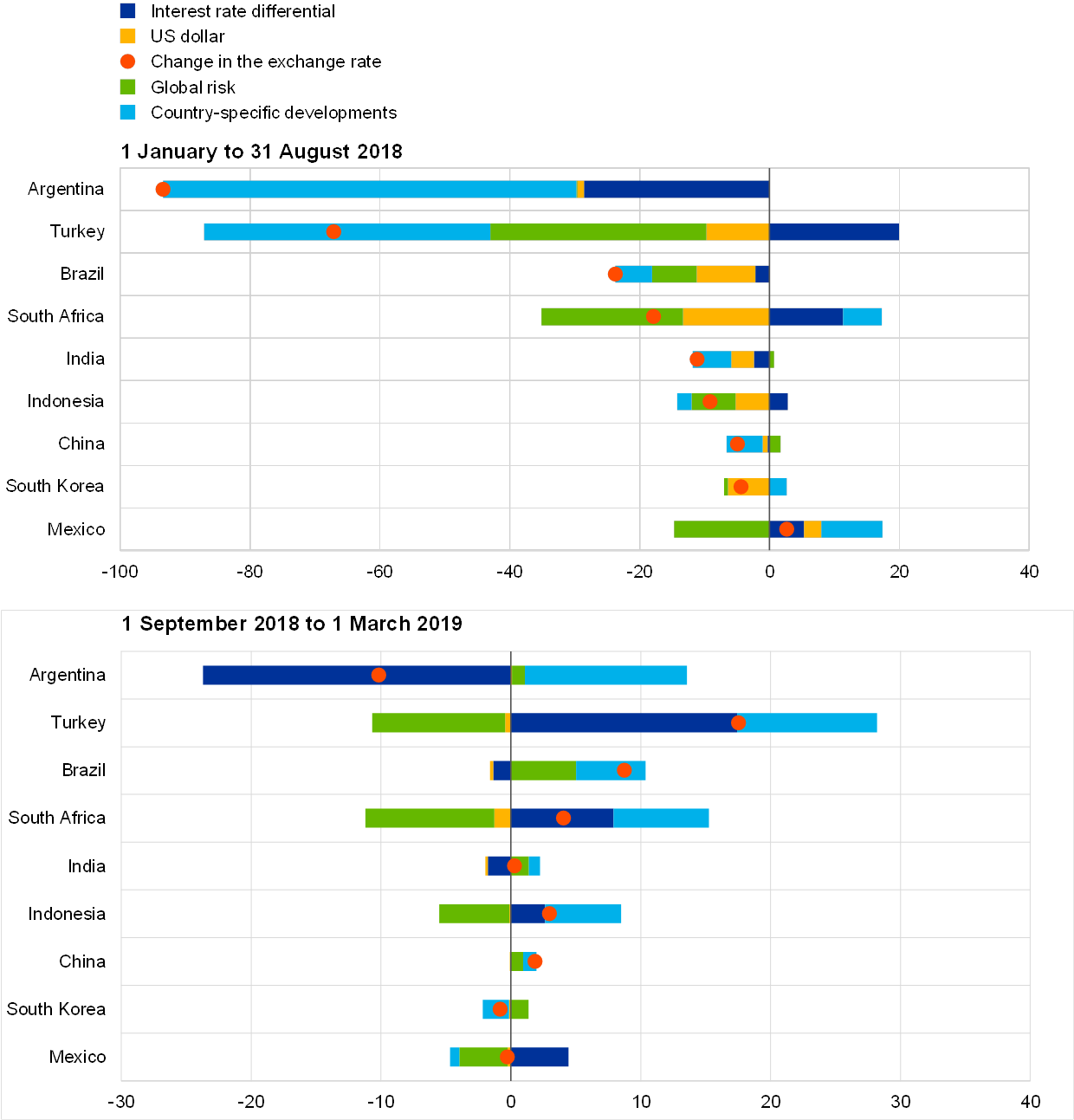 Sources: Haver Analytics, Board of Governors of the Federal Reserve System, Global Financial Data and ECB calculations.
资料来源:Haver Analytics,联邦储备系统理事会,全球金融数据和欧洲央行计算。
The subsequent recovery, on the other hand, appears to have been driven mainly by domestic policy reactions in emerging market countries and positive idiosyncratic developments (see Chart C). The decomposition shows that global risk has continued to put downward pressure on emerging market currencies. However, the role of the US dollar factor has been more limited since August 2018, suggesting that developments in the United States have not generated additional spillovers to emerging market currencies since then. On the other hand, country-specific factors have tended to bolster emerging market currencies, suggesting that domestic conditions have become somewhat more positive and growth prospects have improved in emerging economies since the financial market turmoil during the summer of 2018.
另一方面,随后的复苏似乎主要是由于新兴市场国家的国内政策反应和积极的特殊发展(见图C)。分解表明,全球风险继续对新兴市场货币构成下行压力。然而,自2018年8月以来,美元因素的作用更加有限,这表明美国的发展自那时起并未对新兴市场货币产生额外的溢出效应。另一方面,特定国家的因素倾向于支撑新兴市场货币,这表明自2018年夏季金融市场动荡以来,新兴经济体国内形势有所好转,增长前景有所改善。