IN BRIEF
概要
Factor-based investment strategies offer a compelling opportunity for institutional investors to enhance portfolio returns in a cost-efficient manner.
基于因素的投资策略为机构投资者提供了一个极具吸引力的机会,以经济高效的方式提升投资组合回报。
Most investor allocations to the equity factor space are made in the form of long-only strategies. These can serve as core or targeted equity exposures.
大多数投资者对权益因素空间的分配都是以长期策略的形式进行的。这些可以作为核心或目标股权风险敞口。
Strategies that combine factors (so-called multi-factor approaches) tend to exhibit more stable risk-return profiles than single-factor approaches.
结合因素的策略(所谓的多因素方法)倾向于表现出比单因素方法更稳定的风险回报概况。
Investors may reap the benefits of factor-based strategies whether their allocations are sourced from passive or active equity exposures.
投资者可以从基于因子的策略中获益,无论他们的分配来自被动或主动权益风险。
A case study presents an example of how an institutional investor may approach factor-based investing.
案例研究提供了一个机构投资者如何处理基于因子的投资的例子。
Investing is all about risk and reward—and investors have certainly been rewarded for taking risk this cycle. The S&P 500 is up 426% from its March 2009 low, while the Bloomberg Barclays US Aggregate Bond Index rose 46% over the same period.
投资完全是关于风险和回报 - 投资者在这个周期中承担风险肯定会得到回报。标准普尔500指数较2009年3月的低点上涨426%,而彭博巴克莱美国综合债券指数同期上涨46%。
Today, however, late-cycle dynamics are making the return environment increasingly challenging. The pace of economic growth has slowed this year as fiscal stimulus in the U.S. has run its course, and although the Federal Reserve has paused its rate hikes, it seems premature to call the end of the current hiking cycle. Meanwhile, elevated levels of political uncertainty continue to weigh on business investment.
然而,今天,后期周期动态正在使回归环境变得越来越具有挑战性。由于美国的财政刺激措施正在逐步推进,今年经济增长速度已经放缓,尽管美联储暂停加息,但现在称为结束目前的徒步旅行似乎为时过早。与此同时,政治不确定性的高涨继续拖累商业投资。
These dynamics have pushed volatility higher while expected returns have come under pressure. Yields on core fixed income remain low, which will likely keep a ceiling on bond market returns going forward. And despite a sharp rerating in equity valuations at the end of 2018, the forward P/E ratio on the S&P 500 is back to its long-term average, suggesting the asset class will generate mid-single digit returns in the coming years.
这些动态推动波动性更高,而预期回报受到压力。核心固定收益的收益率仍然很低,这可能会保持债券市场收益的上限。尽管2018年底股票估值大幅调整,标准普尔500指数的远期市盈率回到了长期平均水平,这表明资产类别将在未来几年产生中等个位数的回报。
Investors face specific—and significant—challenges in this environment. Confronting reduced return expectations across a range of asset classes and fearful of taking on increased portfolio risks late in the cycle, institutional investors—from corporate pension plans to health care organizations to endowments and foundations—are evaluating ways to improve portfolio outcomes while remaining cognizant of investment costs.
投资者在这种环境中面临着特定和重大的挑战。面对各种资产类别的回报预期降低,并担心在周期后期承担更多的投资组合风险,机构投资者 - 从企业养老金计划到医疗保健组织再到捐赠基金和基金会 - 正在评估改善投资组合结果的方法,同时保持认识到投资成本。
In response to these challenges, and looking for the potential to improve returns, more institutional investors are considering gaining explicit exposure to factors across a variety of asset classes.1 As the understanding of investment risks and returns has evolved over time, and as practitioners have developed new ways to access factors in liquid and transparent vehicles, investors have gained access to factor-based strategies to enhance returns while limiting investment costs. In our work with a range of clients, we observe a notable increase in the proportion seeking explicit exposure to factors within their equity allocation buckets. Importantly, institutional investors may reap the benefits of factor-based strategies whether their allocations are sourced from passive or active equity exposures. In this article, we explore the role of equity factors in driving returns, highlight how investors can access factor exposures and examine the varying approaches to factor-based investing.
为了应对这些挑战,并寻找提高回报的潜力,更多的机构投资者正在考虑明确了解各种资产类别的因素.1随着对投资风险和回报的理解随着时间的推移而发展,并且正如从业者所拥有的那样。开发了获取液体和透明车辆因素的新方法,投资者获得了基于因子的策略,以提高回报,同时限制投资成本。在我们与一系列客户的合作中,我们观察到在其股权分配桶中寻求明确暴露因素的比例显着增加。重要的是,机构投资者可以从基于因子的策略中获益,无论他们的分配是来自被动还是主动的股权风险。在本文中,我们探讨了股权因素在推动回报中的作用,突出了投资者如何获得要素风险,并研究基于因子的投资的不同方法。
Why do factors matter?
为什么因素很重要?
The universe of factors can be divided between those that reward investors (compensated factors) and those that do not. To understand why certain factors are rewarded over time, it is crucial to understand the economic rationales that underpin them. These rationales span risk preferences, behavioral biases and structural features of the market; they are also non-mutually exclusive across factors (that is, a single factor may reflect more than one rationale). While the equity risk premium is not always thought of as a factor, given how internalized it is as a concept among market participants, it was in fact the first identified compensated factor. A simple explanation of the equity risk premium: In return for putting capital at risk in equity markets (and withstanding periods of negative performance and occasional but at times substantial drawdowns), investors are rewarded with returns that are considerably in excess of cash investments. Similarly, the value, quality and momentum factors compensate investors who assume risks that others cannot, should not or choose not to take on (Romahi, Staines and Norman 2018).2
这些因素可以分为奖励投资者(补偿因素)和不投资者(补偿因子)。要理解为什么某些因素会随着时间的推移而得到回报,了解支撑它们的经济理论至关重要。这些理由涵盖了市场的风险偏好,行为偏差和结构特征;它们也是不相互排斥的因素(也就是说,单个因素可能反映出多个基本原理)。虽然股权风险溢价并不总是被认为是一个因素,但考虑到市场参与者作为一个概念的内在化,它实际上是第一个确定的补偿因素。股权风险溢价的一个简单解释:作为在股票市场中将资本置于风险中的回报(并且经历了负面业绩和偶尔但有时大幅下降的时期),投资者获得的回报远远超过现金投资。同样,价值,质量和动量因素可以补偿承担其他人不能,不应该或不选择承担风险的投资者(Romahi,Staines和Norman 2018).2
Along with clear economic rationales, factors can be shown to deliver persistent returns over extended periods of time and across various markets. For this reason, factors have been widely discussed in academic literature, as highlighted in EXHIBIT 1.
除了明确的经济理由之外,还可以证明各种因素可以在很长一段时间内和各个市场上实现持久的回报。因此,如附件1中所强调的那样,学术文献中已广泛讨论了各种因素。
Factors can be shown to deliver persistent returns over extended periods of time and across various markets
可以证明各种因素可以在很长一段时间内以及跨越各个市场提供持久的回报
EXHIBIT 1: FACTOR EXPOSURES BY ASSET CLASSES
附件1:资产类别的因素暴露

Source: J.P. Morgan Asset Management. For illustrative purposes only.
资料来源:摩根大通资产管理。仅用于说明目的。
How investors access equity factors
投资者如何获得股权因素
Factor strategies have demonstrated value across a range of geographies and parts of the market cap spectrum. Equity factors can be accessed in two forms: 1) long-only and 2) long-short. In long-only equity factor strategies, portfolios invest in stocks that exhibit attractive value, quality and/or momentum characteristics, in effect sourcing exposure to these factors in addition to the equity risk premium.3 These strategies carry the objective of enhancing returns (or, in the case of low volatility/ minimum volatility portfolios, reducing risks). In long-short equity factor strategies, on the other hand, portfolios similarly invest in stocks that exhibit attractive factor characteristics but additionally short those with unattractive factor characteristics such that their exposure to the equity risk premium is negated. These strategies allow investors to isolate the desired factor exposures in a manner that reduces equity beta or correlation, with the objective of sourcing diversifying returns.
因子策略已经在一系列地理区域和市值范围内显示出价值。可以通过两种形式访问权益因素:1)仅限长期和2)多空。在长期股权因素策略中,投资组合投资于具有吸引力的价值,质量和/或动量特征的股票,实际上除了股票风险溢价之外还有这些因素的采购风险.3这些策略的目标是提高回报(或,在低波动率/最小波动率组合的情况下,降低风险)。另一方面,在多空股票因素策略中,投资组合同样投资于具有吸引力因素特征的股票,但另外还有那些具有不具吸引力因素特征的股票,以抵消其对股票风险溢价的风险敞口。这些策略允许投资者以降低股权beta或相关性的方式隔离期望的因素风险,目的是寻找多样化的回报。
Most institutional investor allocations to the equity factor space are made in the form of long-only strategies. These strategies, depending on their design, can serve as core or targeted equity exposures. Strategies that combine factors (so-called multi-factor approaches) take advantage of diversification benefits across factors4 and tend to exhibit more stable risk-return profiles than single-factor approaches. As a result, they are well suited for the core portion of an overall equity allocation. Single-factor approaches, on the other hand, are more cyclical in nature and are typically allocated in a targeted fashion, with a specific objective in mind—such as taking a view on a certain factor outperforming over the near term, or balancing factor exposures that are already present in plan portfolios.
大多数机构投资者对权益因素空间的分配都是以长期策略的形式进行的。这些策略取决于其设计,可作为核心或目标股权风险敞口。结合因素的战略(所谓的多因素方法)利用跨越因素4的多样化收益,并且倾向于表现出比单因素方法更稳定的风险回报概况。因此,它们非常适合整体股权分配的核心部分。另一方面,单因素方法本质上更具周期性,通常以有针对性的方式进行分配,并考虑到特定目标 - 例如考虑某个因素在短期内表现优异,或平衡因素暴露已存在于计划组合中的。
FACTOR 101: VALUE, QUALITY, MOMENTUM
因素101:价值,质量,动力
Value
值
The value factor relates to the tendency for underpriced, or "cheap," stocks to outperform their more expensive counterparts over time. This observation, which dates back to Graham and Dodd's seminal work in the 1930s, applies across a range of value metrics, time periods and geographies. Both behavioral biases and risk preferences drive performance for the value factor.
价值因素与低价或"廉价"股票随着时间的推移表现优于较贵的股票的趋势有关。这一观察可以追溯到格雷厄姆和多德在20世纪30年代的开创性工作,适用于一系列价值指标,时间段和地理位置。行为偏差和风险偏好都会推动价值因素的表现。
BEHAVIORAL: Value companies tend to exhibit worsening fundamentals, reflected in market pricing; however, evidence suggests that investors overextrapolate earnings trends, instead preferring to invest in high growth, "glamour" stocks. Eventually, value companies cease deteriorating at the expected pace—at which point investors rerate them at higher levels.
行为:价值公司往往表现出不断恶化的基本面,反映在市场定价上;然而,有证据表明,投资者过度投资盈利趋势,而宁愿投资高增长的"魅力"股票。最终,价值公司停止以预期的速度恶化 - 此时投资者将其升级到更高水平。
RISK: Worsening corporate fundamentals expose value stocks to greater distress risk1 in the event of a recession or credit freeze and as such necessitate greater returns over time.
风险:在经济衰退或信贷冻结的情况下,企业基本面恶化会使价值型股面临更大的危机风险,因此随着时间的推移需要更高的回报。
Quality
质量
The quality factor can be defined in many ways; broadly, it relates to the tendency for higher quality stocks to outperform their lower quality ("junk") peers. As high quality stocks by definition have better fundamentals than low quality stocks, they should theoretically offer lower returns. Behavioral and structural rationales explain why this is not the case.
质量因素可以通过多种方式定义;从广义上讲,它涉及高质量股票的表现优于低质量("垃圾")同行的趋势。由于高质量股票的定义比低质量股票具有更好的基本面,理论上它们应该提供更低的回报。行为和结构理论解释了为什么不是这种情况。
BEHAVIORAL: Outperformance partly reflects the so-called lottery ticket effect—whereby investors overestimate and overpay for remote chances of high reward. In a typical scenario, investors overvalue low quality stocks that have greater price uncertainty, seeing greater potential for outsize gains, and high quality stocks become undervalued, thus positioned to offer increased return potential over the long term.
行为:表现优异部分反映了所谓的彩票效应 - 投资者过高估计和高额奖励的远程机会。在一个典型的情景中,投资者高估了价格不确定性较高的低质量股票,看到更大的超额收益潜力,高质量的股票被低估,因此有望在长期内提供更高的回报潜力。
STRUCTURAL: The lower volatility typically associated with quality stocks can reduce demand from investors that have limited, if any, ability to take on leverage and thereby prefer securities with higher risk-reward prospects in order to outperform their market benchmark. Again, this leaves higher quality stocks underpriced, increasing their return potential.
结构:通常与优质股票相关的较低波动率可以减少投资者的需求,这些投资者具有有限的(如果有的话)具有杠杆作用的能力,从而更喜欢具有较高风险回报前景的证券,以超越其市场基准。同样,这使得质量较高的股票价格被低估,从而增加了它们的回报潜力。
Momentum
动量
The momentum factor relates to the tendency of stocks that outperform to continue to outperform. This effect can be explained by both behavioral and risk-based rationales.
动量因素与表现优异的股票继续跑赢大势的趋势有关。这种影响可以通过行为和基于风险的理论来解释。
BEHAVIORAL: Investors tend to initially underreact to new information and subsequently overreact once this information becomes more widely recognized.
行为:一旦这些信息得到更广泛的认可,投资者往往会对新信息反应不足,并随后反应过度。
RISK: In a typical scenario, the overreaction in pricing trends builds, causing a mismatch between buyers and sellers. Once new information emerges or the market environment changes, an imbalance is created that leads to sharp corrections. These corrections expose momentum investors to the risk of asymmetric losses in their return profile—a risk that many are not willing or able to take on.
风险:在典型情况下,定价趋势的过度反应会增加,导致买卖双方之间的不匹配。一旦出现新信息或市场环境发生变化,就会产生不平衡,导致严重的修正。这些修正使动量投资者面临其回报状况不对称损失的风险 - 这是许多人不愿意或无法承担的风险。
Empirical support
实证支持
J.P. Morgan's Quantitative Beta Strategies team typically employs an average of inputs to define these three factors, with an eye toward intuition and a desire to reduce sensitivity to any one data point. As highlighted in EXHIBIT 2, value, quality and momentum have each exhibited attractive risk-adjusted returns (net of transaction cost assumptions) across a range of geographies dating back to 1990.
摩根大通的定量Beta策略团队通常使用平均输入来定义这三个因素,着眼于直觉和希望降低对任何一个数据点的敏感度。如附件2中所强调的那样,价值,质量和动力各自在1990年以来的各个地区都显示出具有吸引力的风险调整回报(扣除交易成本假设)。
EXHIBIT 2: GLOBAL RISK-ADJUSTED RETURNS
附件2:全球风险调整回报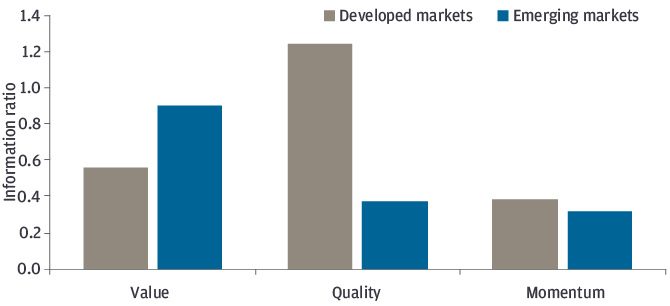 Source: J.P. Morgan Asset Management. For illustrative purposes only.
资料来源:摩根大通资产管理。仅用于说明目的。
1 Value companies typically derive more of their value from assets in place than do growth stocks (which are valued based on future growth options) and as a result have less flexibility to adapt or respond during difficult economic times, exposing them to distress risk.
1价值型公司通常从现有资产中获得的价值高于成长型股票(基于未来增长期权进行估值),因此在经济困难时期适应或应对的灵活性较低,从而使他们面临遇险风险。
While factor strategies can improve risk-adjusted returns relative to traditional market cap exposures (and thus serve as replacements to passive equity allocations), they can also be thought of as low cost replacements or complements to active allocations. Over time, as investors' understanding of investment risks and returns has continued to evolve, they have been able to determine that certain active equity manager returns can be well explained by their factor exposures. Some managers, for example, have been able to repeatedly outperform the market by biasing their portfolios toward companies that have lower P/E multiples or higher quality metrics. As new technologies are better able to identify factor exposures, investors can now distinguish between those managers that have been rewarded for simply tilting toward these factors5 and those that have exhibited an ability to select stocks that provide true alpha. Investors can then consider replacing the factor "tilters" with lower cost, factor-based strategies.
虽然要素策略可以相对于传统市值风险敞口改善风险调整回报(因此可以替代被动股权分配),但它们也可以被视为低成本替代或对主动分配的补充。随着时间的推移,随着投资者对投资风险和回报的理解不断发展,他们已经能够确定某些活跃的股权经理回报可以通过他们的因素风险得到很好的解释。例如,一些管理人员通过将他们的投资组合偏向具有较低P / E倍数或更高质量指标的公司,能够反复超越市场。随着新技术能够更好地识别因子暴露,投资者现在可以区分那些因为倾向于这些因素而获得奖励的经理人5以及那些已经表现出选择提供真正阿尔法的股票的能力的经理人。然后,投资者可以考虑用低成本,基于因子的策略取代"倾斜者"因素。
Factor strategies can be implemented in multiple ways, ranging from pooled vehicles to separate accounts or delivered models. While each may offer the benefits of low cost and transparency, the latter two offer flexibility in tailoring investment universe choices, tracking error constraints and other parameters to specific client objectives. In cases where pooled vehicles do not align with an investor's needs or fail to target the desired out- come, customization by way of a separate account or model delivery engagement may offer the solution. Alternately, factor strategies can be designed to target either an improved Sharpe ratio or an improved information ratio.
因子策略可以通过多种方式实施,从合并车辆到单独账户或交付模型。虽然每个都可以提供低成本和透明度的好处,但后两者可以灵活地定制投资范围选择,跟踪错误约束和其他参数以满足特定的客户目标。如果汇集的车辆不符合投资者的需求或未能达到预期的结果,通过单独的帐户或模型交付参与进行定制可能会提供解决方案。或者,可以设计因子策略以针对改进的夏普比率或改善的信息比率。
Case study: equity factor investing
案例研究:股权因素投资
Equity factor strategies can offer benefits across both the risk and return dimensions, giving investors a way to capture market upside without taking undue concentration risk across certain sectors or stocks. We have seen institutional investors moving to factor strategies as replacements for both passive and active exposures, with factor-based strategies serving as a hybrid of the two, given their ability to enhance returns vs. passive exposures while doing so in a liquid, low cost and transparent manner.
股票因素策略可以在风险和收益维度上提供收益,为投资者提供一种方法来捕捉市场上行而不会在某些行业或股票中承担过度的集中风险。我们已经看到机构投资者转向因子策略作为被动和主动风险的替代品,基于因子的策略作为两者的混合体,因为它们能够在流动,低成本的情况下提高回报率与被动风险敞口透明的方式。
Replacement of passive equity exposure
替代被动股权风险
Employing factors to improve equity diversification or minimize volatility may help investors who want to retain exposure to equity markets as a driver of portfolio growth but are worried about risk concentrations. Traditional market cap-weighted approaches are well diversified at the surface level (e.g., 500-plus stocks, 10 sectors). However, they can become concentrated when relatively few firms or sectors hold a relatively large share of the market's total capitalization, as happened in the dot-com bubble and the global financial crisis. Over the past 20 years, a multi-factor equity approach (EXHIBIT 3 ) that seeks to diversify sector and stock risk while capturing the equity value, quality and momentum factors has experienced 13% lower volatility than a traditional market cap index. An approach that explicitly seeks to minimize volatility, regardless of return potential, has experienced 23% lower volatility. While both approaches may help to reduce surplus volatility, multi-factor strategies offer benefits that may help investors from a return perspective and lead to a better outcome when taking both risk and return objectives into account.
利用因素来改善股权多元化或最小化波动性可能有助于那些希望保留股票市场风险的投资者作为投资组合增长的驱动因素,但却担心风险集中。传统的市值加权方法在表面层面上是多样化的(例如,500多个股票,10个行业)。然而,当相对较少的公司或部门占据市场总资本总额的相对较大份额时,它们可能变得集中,就像互联网泡沫和全球金融危机中所发生的那样。在过去20年中,多元化股权方法(附件3)旨在实现行业和股票风险的多元化,同时获取股票价值,质量和动量因素,其波动率比传统市值指数低13%。无论回报潜力如何,明确寻求最小化波动率的方法的波动率降低了23%。虽然这两种方法都有助于减少盈余波动,但多因素策略提供的好处可以帮助投资者从回报的角度出发,并在考虑风险和回报目标时产生更好的结果。
A multi-factor approach provides exposure to value, quality and momentum
多因素方法提供价值,质量和动力
EXHIBIT 3: CUMULATIVE PERFORMANCE
附件3:累积表现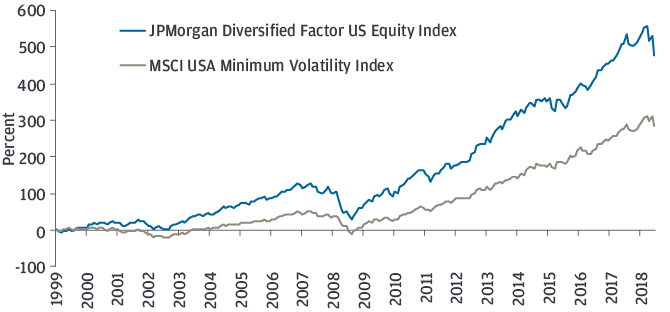 Source: J.P. Morgan Asset Management. For illustrative purposes only.
资料来源:摩根大通资产管理。仅用于说明目的。
Replacement of active equity exposure
更换有效股权风险
Investors look to active managers for their ability to both enhance return and reduce risk. Given the potential for factor strategies to improve outcomes at low cost, however, the bar for active managers is high. Using sophisticated tools for factor analysis, we are able to diagnose existing equity portfolio exposures through a factor lens and decompose individual manager returns into beta, factor and alpha components. EXHIBIT 4 presents this analysis, decomposing the returns of an active equity manager with a bias toward higher quality companies. In this analysis, we see that, despite outperforming a market cap benchmark by 90 basis points (bps, annualized) over a five-year period, the manager did not generate any alpha and instead benefited from exposure to the quality factor, which was up nearly 4% over the analysis period and contributed roughly 120bps to the manager's returns. In this example, an investor may be able to improve net of fee return by replacing the active manager with either a skilled stock picker that can generate true alpha or a lower cost factor exposure.
投资者希望积极的管理者能够提高回报并降低风险。然而,考虑到以低成本改善结果的因素策略的可能性,积极管理者的标准很高。使用复杂的因子分析工具,我们能够通过因子镜头诊断现有的股票投资组合风险,并将个别经理回报分解为beta,factor和alpha组件。附件4介绍了这种分析,分析了活跃的股权经理的回报,偏向于更高质量的公司。在此分析中,我们看到,尽管在五年期间市值基准指数表现优于90个基点(年化点数),但经理并未产生任何阿尔法,而是受益于品质因素的影响。在分析期内接近4%,并为经理的回报贡献了大约120个基点。在这个例子中,投资者可以通过用可以产生真正的α或低成本因子暴露的熟练的股票选择器替换活跃的管理者来提高费用回报的净额。
We can decompose individual manager returns into beta, factor and alpha components
我们可以将个别经理回报分解为beta,factor和alpha组件
EXHIBIT 4: GLOBAL DEVELOPED EQUITY MANAGER
附件4:全球发达的股票经理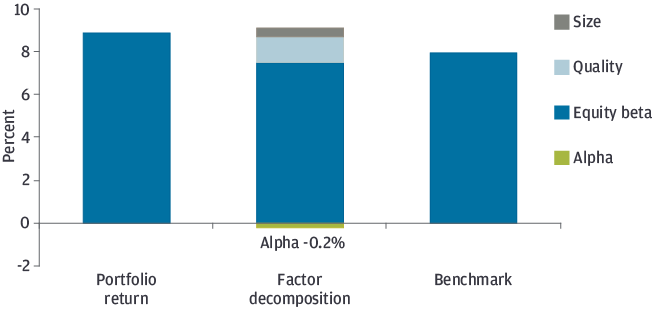 Source: J.P. Morgan Asset Management. For illustrative purposes only.
资料来源:摩根大通资产管理。仅用于说明目的。
Conclusion
结论
Skilled stock pickers that can reliably generate alpha will always have an important role to play in institutional portfolios. But as our understanding of investment risks and returns has evolved over time, and as practitioners have developed new ways to access factors in a liquid, low cost and transparent manner, factor-based investment strategies offer a compelling opportunity to enhance portfolio outcomes while reducing or limiting overall investment costs. Investors can reap these benefits whether their factor allocations are sourced from passive or active equity exposures. As we have discussed, a confluence of developments has spurred increased interest in equity factor exposures by institutional investors. We believe the trend will only deepen and broaden in the coming years.
能够可靠地产生阿尔法的技术选股者将始终在机构投资组合中发挥重要作用。但随着我们对投资风险和回报的理解随着时间的推移而发展,并且随着从业者开发出以流动,低成本和透明的方式获取因素的新方法,基于因素的投资策略提供了一个令人信服的机会来增强投资组合结果,同时减少或限制整体投资成本。无论其要素分配来自被动或主动权益风险,投资者都可以获得这些利益。正如我们所讨论的,一系列发展促使机构投资者对股权因素风险的兴趣增加。我们相信这一趋势只会在未来几年加深和扩大。