The domestic A-share market offers the biggest and most diverse universe for long-term growth opportunities in China.
国内a股市场为中国提供了最大、最多样化的长期增长机会。
Despite its size and liquidity, the A-share market remains highly inefficient and idiosyncratic – providing plenty of opportunities for active investing.
尽管a股市场规模庞大、流动性充足,但其效率仍然非常低,而且具有特殊性——为积极投资提供了大量机会。
Local knowledge and a systematic approach attuned to the distinct factors driving the A-share market provide opportunity for consistent alpha generation.
本地知识和与推动a股市场的不同因素相适应的系统性方法,为持续产生阿尔法提供了机会。
China's onshore equity market – the world's second-largest in terms of market capitalization – has never been more accessible to international investors. However, finding a strategy suitable for a market whose dynamics and characteristics are decidedly different from those of most other markets in the world can be a challenge.
按市值计算,中国内地股市是全球第二大股市。然而,要找到一种适合中国市场的策略可能是一项挑战,因为中国市场的动态和特征与世界上大多数其他市场截然不同。
Here, we provide international investors with insights into navigating China's market anomalies from an onshore perspective and present the case for a systematic approach to alpha generation.
在这里,我们为国际投资者提供了从中国境内视角把握中国市场异常的洞见,并提出了系统性的阿尔法方法。
Capturing China's growth opportunities
抓住中国的增长机遇
In the 40 years since Chinese leader Deng Xiaoping launched unprecedented market-oriented reforms, China has metamorphosed into a global economic power faster than any other country in history. China has eclipsed several developed economies in many respects, from the symbolic (e.g., half of the world's top 10 tallest buildings are in China) to the significant (e.g., it is the largest contributor to global GDP in purchasing power parity terms). And it is not about to stop here – we expect real GDP in China to grow at more than twice the pace of that in the US and run ahead of most economies in the world.
自中国领导人邓小平启动前所未有的市场经济改革以来的40年里,中国比历史上任何一个国家都更快地转变为全球经济强国。中国在许多方面已经超越了几个发达经济体,从象征性的(例如,世界上最高的10座建筑中有一半在中国)到重要的(例如,按购买力平价计算,中国是全球GDP的最大贡献者)。我们预计,中国的实际GDP增速将是美国的两倍以上,并超过全球多数经济体。
Over the years, China's domestic equity market has grown to become the world's second-largest in terms of market capitalization at US$6.8 trillion,1 with an average turnover of US$56 billion.2 Previously closed to foreign participation, the onshore market has opened to global investors in recent years, with many international portfolios today holding increasing, albeit still small, exposures to the local currency-denominated, domestically listed A-share companies through MSCI and other benchmarks.3
多年来,中国国内股市以6.8万亿美元的市值跃居世界第二,平均成交额560亿美元。中国内地股市此前不接受外国投资者参与,但近年来已向全球投资者开放。目前,许多国际投资组合通过摩根士丹利资本国际(MSCI)等基准,持有的以人民币计价、在国内上市的a股公司的风险敞口在不断增加,尽管规模仍然很小
IMF 2019 Real GDP Forecast
国际货币基金组织2019年实际GDP预测
China's Expanding Much, Much Faster Than Developed Markets Are
中国的扩张速度比发达市场快得多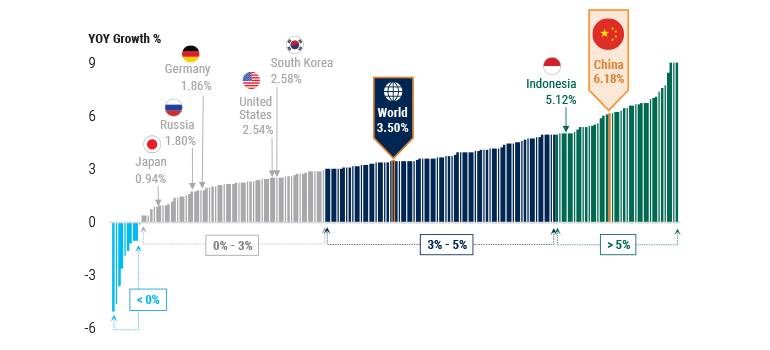 How China's Stock Exchanges Have Grown
中国的证券交易所是如何发展的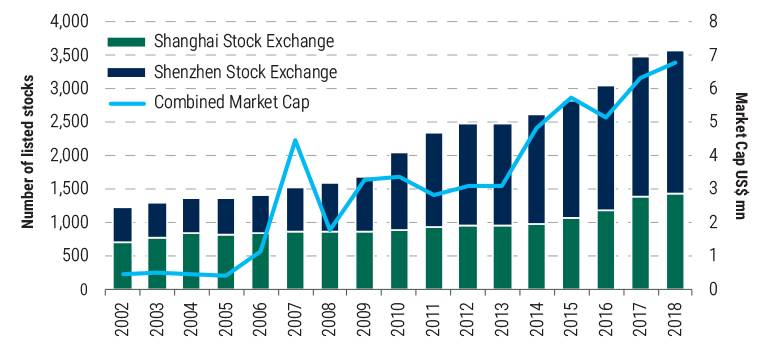 China's long-term prospects rest on its critical pivot from the industrial-led growth formula that steered the country to its current economic status in favor of "new economy" growth drivers like consumption and information technology. Policymakers view this generational shift as essential in sustaining Chinese growth and prosperity well into the future.
中国的长期前景取决于其关键的战略重心,即从工业主导的增长模式转向消费和信息技术等"新经济"增长驱动因素。政策制定者们认为,这种代际转变对中国未来保持增长和繁荣至关重要。
On the ground, we see technological innovation, evolving consumer trends, financial reforms, and trade reshaping Chinese business models.
在实地,我们看到技术创新、不断演变的消费趋势、金融改革和贸易正在重塑中国的商业模式。
'New' China's Return on Equity Is Outpacing the Old
"新"中国的股本回报率正在超过旧的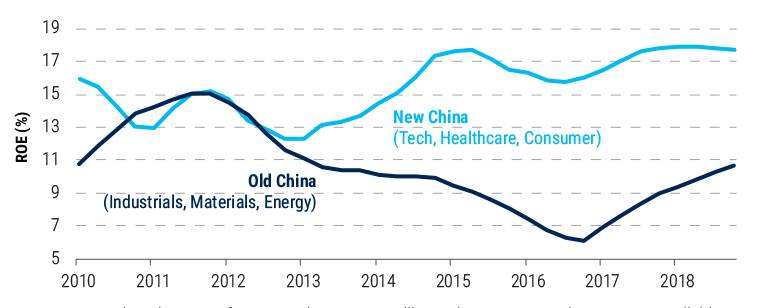 The "factory of the world" image of China is gradually giving way to a high-tech China, aided by increased spending in research and development that is expected to outstrip the US and eurozone economies in a few years. Although China is still behind in many areas, significant amounts of state and venture capital investments are pouring into key technological areas, such as virtual reality, autonomous vehicles, 3-D printing, robotics, drones, and artificial intelligence (AI). With China already regarded as the second-largest AI ecosystem in the world,4 the government aims to make it a global leader by 2030.
中国"世界工厂"的形象正逐渐让位于高科技中国,这得益于研发支出的增加。预计未来几年,研发支出将超过美国和欧元区经济体。尽管中国在许多领域仍然落后,但大量国家和风险投资正涌入关键技术领域,如虚拟现实、自动驾驶汽车、3d打印、机器人、无人机和人工智能(AI)。中国已经被认为是世界上第二大人工智能生态系统,4政府的目标是到2030年成为全球领导者。
The rise of China's middle class and millennial generation also portends a disruptive force that is likely to yield new investment opportunities. Total retail e-commerce sales in China have eclipsed those of the US since 2013, accounting for 56% of the value of global retail e-commerce transactions by the end of 2019.5 At the same time, China is deepening its global economic influence with the ambitious "One Belt, One Road" infrastructure and trade initiative, connecting 65% of the planet's population6 across Asia, Europe, the Middle East, and Africa.
中国中产阶级和千禧一代的崛起也预示着一股颠覆性力量,可能带来新的投资机会。零售电子商务销售总量自2013年以来,中国已经超越美国,占56%的全球零售电子商务交易的价值2019.5同时,年底中国深化其全球经济影响力的雄心勃勃的"一带一路"基础设施和贸易倡议,连接地球65%的人口。
China's R&D Spending Is Escalating
中国的研发支出正在不断增加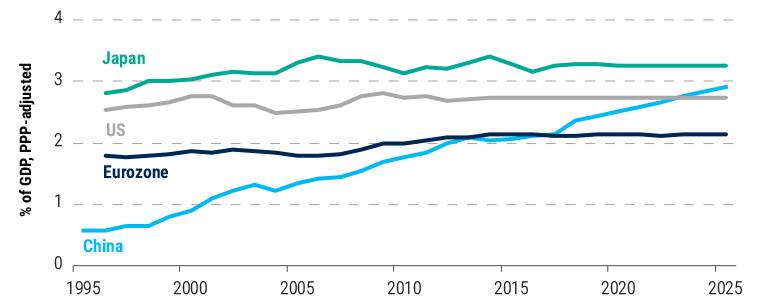 This new era of transformation creates fertile ground for active investors who can identify companies that capitalize on these trends, evolve their businesses to be forward-looking, and have strong management and sustainable business models. With over 3,500 listed companies, the A-share market is the largest investible universe in which to capture these opportunities.
这个变革的新时代为活跃的投资者创造了肥沃的土壤,他们能够识别利用这些趋势的公司,使其业务具有前瞻性,并拥有强大的管理和可持续的业务模式。拥有3500多家上市公司的a股市场,是最大的投资领域,可以抓住这些机会。

Net inflows into A-shares have grown significantly since China introduced direct access to the onshore market through the Qualified Foreign Institutional Investor (QFII) in 2002 and the Renminbi Qualified Foreign Institutional Investor (RQFII) in 2011. These initiatives were followed by the game-changing Stock Connect program linking the Hong Kong Exchange with the Shanghai Stock Exchange in 2014 and Shenzhen Stock Exchange in 2016, which allowed foreign retail and institutional investors the ability to trade A-shares via Hong Kong intermediaries.
自2002年中国通过合格境外机构投资者(QFII)和2011年通过人民币合格境外机构投资者(RQFII)直接进入中国内地市场以来,流入a股的资金净流入大幅增长。随后,2014年香港交易所与上海证券交易所和2016年深圳证券交易所启动了"沪港通"(Stock Connect)计划,该计划改变了游戏规则,允许外国散户和机构投资者通过香港中介机构交易a股。
Net Inflows to A-Shares through Foreign Access Channels Are Rising
通过外资渠道流入a股的净流入正在上升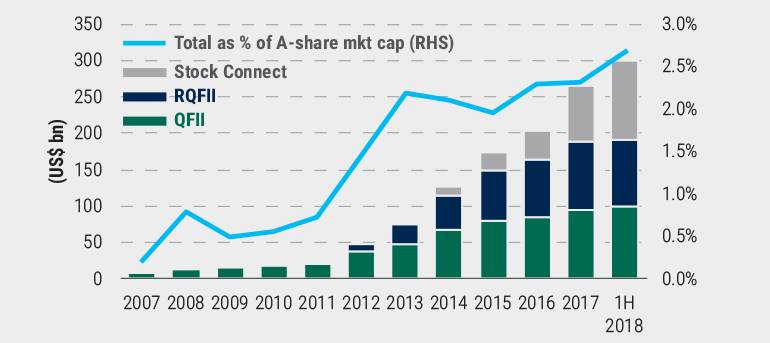 More Channels Are Open for Foreign Direct Access to China's Onshore Equity Market
外资直接进入中国境内股市的渠道增多
Why A-shares, and why now?
为什么是a股,为什么是现在?
Before the opening up of the onshore market to foreign investors, direct investment into Chinese companies was done through overseas-listed share classes, such as H-shares, red chips, and P chips in Hong Kong and N-shares in the US.7 Among these share classes, H-shares had been the biggest in terms of market cap and offered the most diverse sector exposures. However, as China's domestic economy flourished, the A-share market became more diverse and more liquid, and has surpassed H-shares in terms of market cap.
在岸市场开放之前,外国投资者对中国企业直接投资是通过海外上市股票类别,如h股,红色芯片,芯片和P在香港和N-shares US.7在这些股票类别中,h股一直最大的市值和提供最多样化的行业风险。然而,随着中国国内经济的蓬勃发展,a股市场变得更加多元化、流动性更强,市值已超过h股。
Breadth and dept
广度和深度
The A-share market is the largest and most diverse Chinese equity opportunity set.8 While H-shares are dominated by financial stocks, A-shares better represent the evolving Chinese economy with more balanced weights across traditional sectors such as financials, industrials, consumer goods, and basic materials, as well as "new" sectors such as IT and health care. The A-share market enjoys vibrant trading by Chinese retail investors, which make up more than 80% of total trading volume.9
a股市场是最大和最多样化的中国股市机会set.8虽然h股由金融股,a股更好地代表了中国经济的发展更加平衡重量在传统行业如金融、工业、消费品、和基本材料,以及"新"它和医疗保健等行业。中国散户投资者在a股市场活跃,占总交易量的80%以上
A-Shares Better Represent China's Evolving Economy
a股更能代表中国不断发展的经济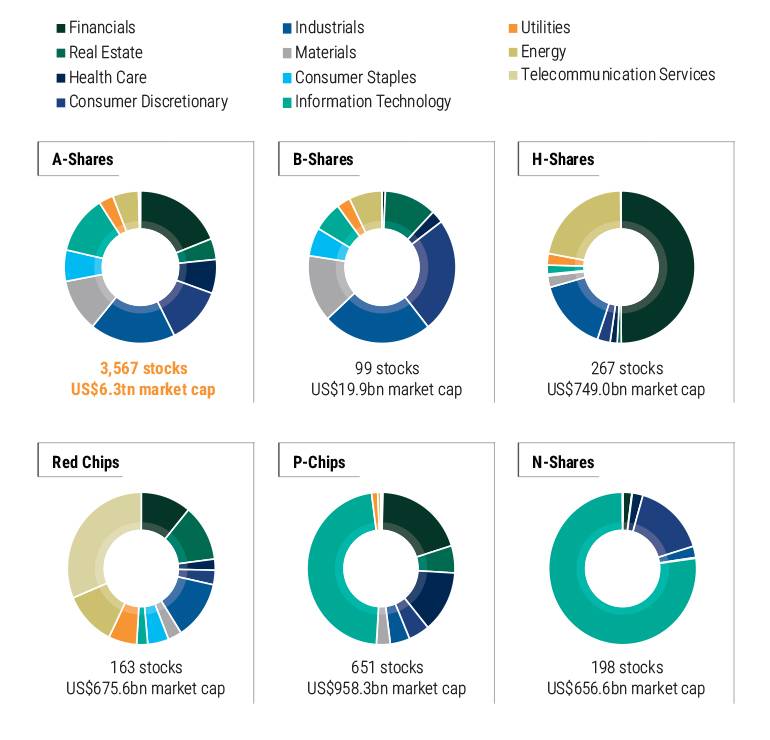 Increasing relevance
增加的相关性
The landmark partial inclusion of A-shares in the MSCI Emerging Markets Index in 2018 instantly increased the exposure of portfolios linked to the benchmark. A-share exposure will continue to expand to as much as 3.3% by late 2019 from less than 1% today as more companies are added into the index,10 which could drive an estimated US$60 billion to $89 billion in foreign fund flows into China's onshore stock market.11
2018年,a股在MSCI新兴市场指数(MSCI Emerging Markets Index)中具有里程碑意义的部分纳入,立即增加了与该基准挂钩的投资组合的风险敞口。随着越来越多的公司被纳入a股指数,到2019年底,a股敞口将继续扩大,从目前的不足1%增至3.3%。这将推动约600亿至890亿美元的外资流入中国内地股市
While index inclusion by MSCI and others has significant flow implications, A-shares remain an underrepresented opportunity. Even at full inclusion, A-shares are estimated to account for only 16% of the MSCI Emerging Market Index.12
尽管MSCI等纳入指数对资本流动具有重大影响,但a股仍是一个未得到充分代表的机会。即使完全纳入MSCI新兴市场指数,a股估计也只占该指数的16%
Attractive valuations and returns
有吸引力的估值和回报
Aside from size and depth, the onshore market offers stronger and more persistent returns than major markets. Valuations remain attractive in terms of price to earnings growth – making Chinese equities a compelling addition to global portfolios.
除了规模和深度以外,中国内地市场的回报率比主要市场更强劲、更持久。就市盈率增长而言,估值仍具有吸引力——这使得中国股票成为全球投资组合中一个引人注目的新成员。
Valuations Are Attractive
估值有吸引力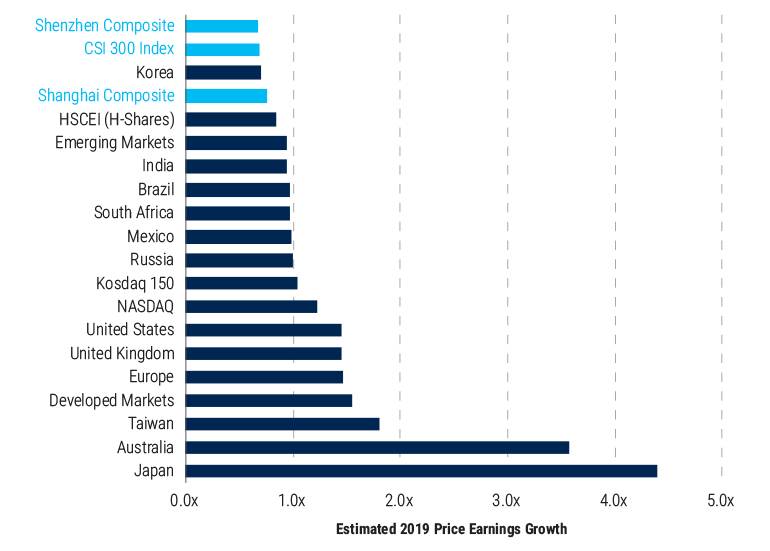 Average Cross-Sectional Dispersion Over 5 Years
平均横截面分布超过5年
A-Shares Provide a Wide Dispersion of Returns
a股提供了广泛的分散性回报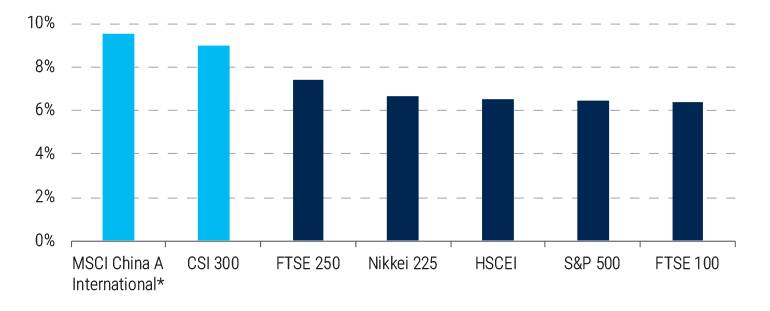 Low correlations
低的相关性
A-shares also exhibit relatively lower correlations compared with other major equity markets, including EM, making them potentially effective diversifiers in a global portfolio.
与包括新兴市场在内的其它主要股市相比,a股的相关性也相对较低,这使得它们成为全球投资组合中潜在的有效多元化工具。
A-Shares Have Relatively Low Correlation with Major Markets
a股与主要市场相关性较低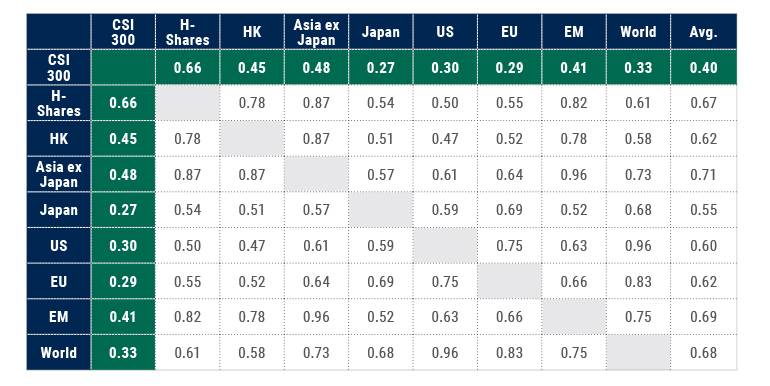 Investing with Chinese characteristics
中国特色投资
While A-shares offer compelling benefits, the market remains highly inefficient and idiosyncratic. International investors will find vastly different structural and behavioral paradigms at work in China than in most other markets.
尽管a股提供了令人信服的好处,但中国股市仍然非常低效和独特。国际投资者将发现,中国市场的结构和行为模式与大多数其他市场截然不同。

Retail investor dominance
散户投资者主导地位
An enthusiastic army of retail investors is responsible for over 80% of total trading volume in A-shares.13 But what is a boon for liquidity can be a bane for market stability; retail investors rely on price momentum, speculation, and headlines rather than fundamentals when making investment decisions and their herd behavior can trigger sudden market movements. Trading activities by large Chinese state-owned institutional investors (the so-called "national team") can also leave a major footprint on the market.
一支充满热情的散户投资者大军占据了a股总交易量的80%以上。但对流动性有利的因素可能对市场稳定不利;在做投资决策时,散户投资者依赖于价格走势、投机和头条新闻,而不是基本面,他们的从众行为可能引发市场的突然波动。中国大型国有机构投资者(所谓的"国家队")的交易活动也可能在市场上留下重大足迹。
Trading restrictions
交易限制
While trading suspensions are a common market-stabilization feature globally, they have been a cause of investor concern in China because of their frequency and duration. For example, on 9 July 2015 the Chinese stock market crashed and volatility reached 60%,14 with trading of over half of all China A-shares suspended at one point. Trading suspensions can be voluntary or mandatory and can take place for reasons such as company restructuring, change of ownership, or unusual price movements. However, since the peak in 2015, the number of suspensions has dramatically fallen by over 90% by February 2019.15 Even during the market selloff in the fourth quarter of 2018, suspensions continued their downward trend. Moreover, stricter rules were implemented in November 2018, which included fewer allowable reasons for suspension, greater disclosure, as well as reducing the maximum suspension duration from three months to not more than 25 trading days.16
尽管停牌是全球市场稳定的一个共同特征,但由于停牌的频率和持续时间,它已引起中国投资者的担忧。例如,2015年7月9日,中国股市暴跌,波动性达到60%,其中14只股票一度停牌,超过半数的中国a股停牌。停牌可以是自愿的,也可以是强制性的,停牌的原因可能是公司重组、所有权变更或价格异常波动。然而,自2015年见顶以来,到2019.15年2月,停牌数量已大幅下降90%以上,即使在2018年第四季度的市场抛售期间,停牌数量仍保持下降趋势。此外,2018年11月实施了更严格的规定,包括减少允许的停牌原因,加大披露力度,并将最长停牌时间从3个月缩短至不超过25个交易日。
State ownership of listed companies
国有上市公司
State-owned enterprises (SOEs) play an outsize role in the Chinese equity market. In terms of capitalization, they dominate highly regulated sectors such as financial, energy, industrial, and utilities. Regulations and policies, therefore, have a significant influence on the business and financial prospects of these companies. A systematic approach that can isolate quality SOEs based on fundamentals or other metrics may offer greater flexibility for investors than market cap-based index investing.
国有企业在中国的股票市场上扮演着巨大的角色。就资本而言,它们主导着金融、能源、工业和公用事业等受到高度监管的行业。因此,法规和政策对这些公司的业务和财务前景有着重要的影响。与基于市值的指数投资相比,基于基本面或其它指标来隔离优质国企的系统性方法,可能会为投资者提供更大的灵活性。
Corporate governance and shareholder rights
公司治理和股东权利
Unlike the activist role institutional shareholders play in most developed markets, engagements with Chinese companies remain difficult and their outcomes limited. In a recent survey of China-listed companies, a majority of respondents see either a weak or no link between good corporate governance and good company performance.17
与多数发达市场中机构股东所扮演的维权角色不同,与中国企业接触仍然困难,而且结果有限。在最近对中国上市公司的一项调查中,大多数受访者认为良好的公司治理与良好的公司业绩之间没有联系
Since these anomalies have implications on returns, investors need to consider their investment approach carefully to effectively navigate this market.
由于这些异常现象对回报率有影响,投资者需要仔细考虑他们的投资方式,才能有效地驾驭这个市场。
Turning anomalies into alpha – systematically
将异常系统地转化为alpha
Benchmark allocations tend to offer a shallow and undifferentiated approach to a market whose workings are decidedly different than most other markets in the world. And for the active investor, anomalies represent exploitable opportunities to generate alpha. In the A-share market, we believe a factor-based approach that targets specific stock attributes can offer an efficient and consistent way to sift through market noise and isolate the most compelling alpha opportunities.
基准配置往往为中国市场提供一种浅显而无差异的方法,而中国市场的运作方式与世界上大多数市场明显不同。对于活跃的投资者来说,异常代表着产生阿尔法的可利用机会。在a股市场,我们相信,基于因素的方法,以特定的股票属性为目标,可以提供一种有效和一致的方式来筛选市场噪音,并隔离最引人注目的阿尔法机会。
Certain investment factors (attributes that are associated with higher returns) behave differently in the A-share market than in other markets, providing opportunity for investors to capitalize on factor-based principles.
某些投资因素(与较高回报相关的属性)在a股市场的表现与在其他市场不同,这为投资者提供了利用基于因素的原则进行投资的机会。
Factors Perform Differently in China Than in the US and Hong Kong
这些因素在中国的表现与美国和香港不同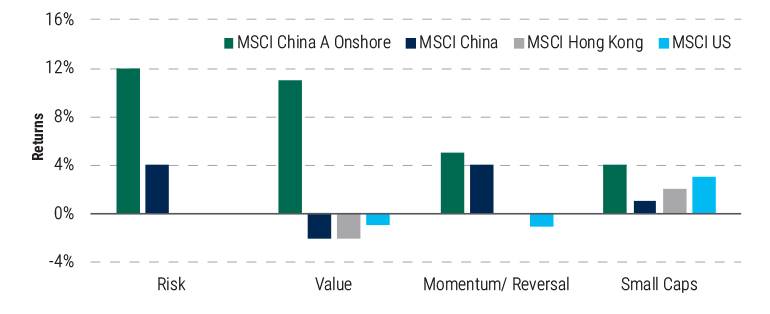 Growing Stock Coverage by Private Data Providers
私人数据提供商的股票覆盖范围不断扩大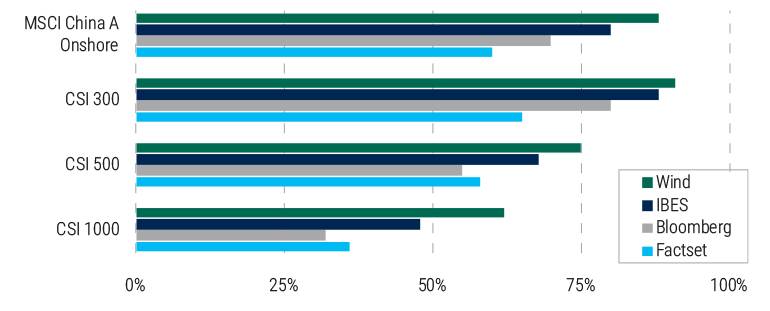 Onshore management offers the added benefit of decision making based on an intimate knowledge of China, access to uncommon data sets, and the ability to act timely on emerging opportunities and risks.
在岸管理还提供了额外的好处,即基于对中国的深入了解、获得不寻常数据集的渠道,以及对新出现的机遇和风险及时采取行动的能力,来做出决策。
What to consider when choosing a quantitative manager
选择量化经理时应该考虑什么
When considering an A-share active quant manager, investors may want to seek providers that have a live track record to ensure their model is sufficiently robust to deliver consistent alpha across a variety of market environments. For example, how a strategy performed during the 2015 crash and subsequent recovery period may provide clues to its upside/ downside capture ability. Investors should also consider how managers continually innovate their alpha model through market cycles.
当考虑一个活跃的a股量化基金经理时,投资者可能希望寻找那些有实时记录的供应商,以确保他们的模型足够健壮,能够在各种市场环境中提供一致的阿尔法。例如,一项策略在2015年崩盘和随后的复苏期间的表现,可能为其上行/下行捕捉能力提供线索。投资者还应该考虑经理人如何在市场周期中不断创新他们的阿尔法模型。
Above all considerations, investors need to clearly define their investment objectives, risk/ return targets, time horizons, and the role that Chinese equities will play in their portfolios. A comprehensive analysis of the drivers of their portfolios can help avoid over or under diversification, and determine the optimal China equity exposure they need and the appropriate investment vehicle. A nuanced and well-thought-out strategy together with a reliable onshore partner should put the investor on solid footing for the opportunities ahead.
综上所述,投资者需要明确自己的投资目标、风险/回报目标、时间范围以及中国股票在其投资组合中将扮演的角色。全面分析其投资组合的驱动因素,有助于避免过度或过少分散投资,并确定他们所需的最佳中国股票敞口和合适的投资工具。一个细致入微、经过深思熟虑的战略,加上一个可靠的在岸合作伙伴,应该会让投资者为未来的机遇打下坚实的基础。